Calendula officinalis L. – eine alte Heilpflanze mit grosser Bedeutung für die heutige Zeit
Elemente der Naturwissenschaft 115, 2021, P. 5-35 | DOI: 10.18756/edn.115.5
Article | Language: German | €6.00
Export Article Citation as
Abstract:
Calendula is a multi-purpose medicinal plant used for a long time in folk medicine. Its environmental context, morphological characteristics and developmental dynamics are presented in detail. Constituents and spectrum of effects are presented based on pharmacological studies and complement the picture. A synopsis is given of the morphological and developmental dynamic gestures of Calendula along with its active ingredients and therapeutic virtues.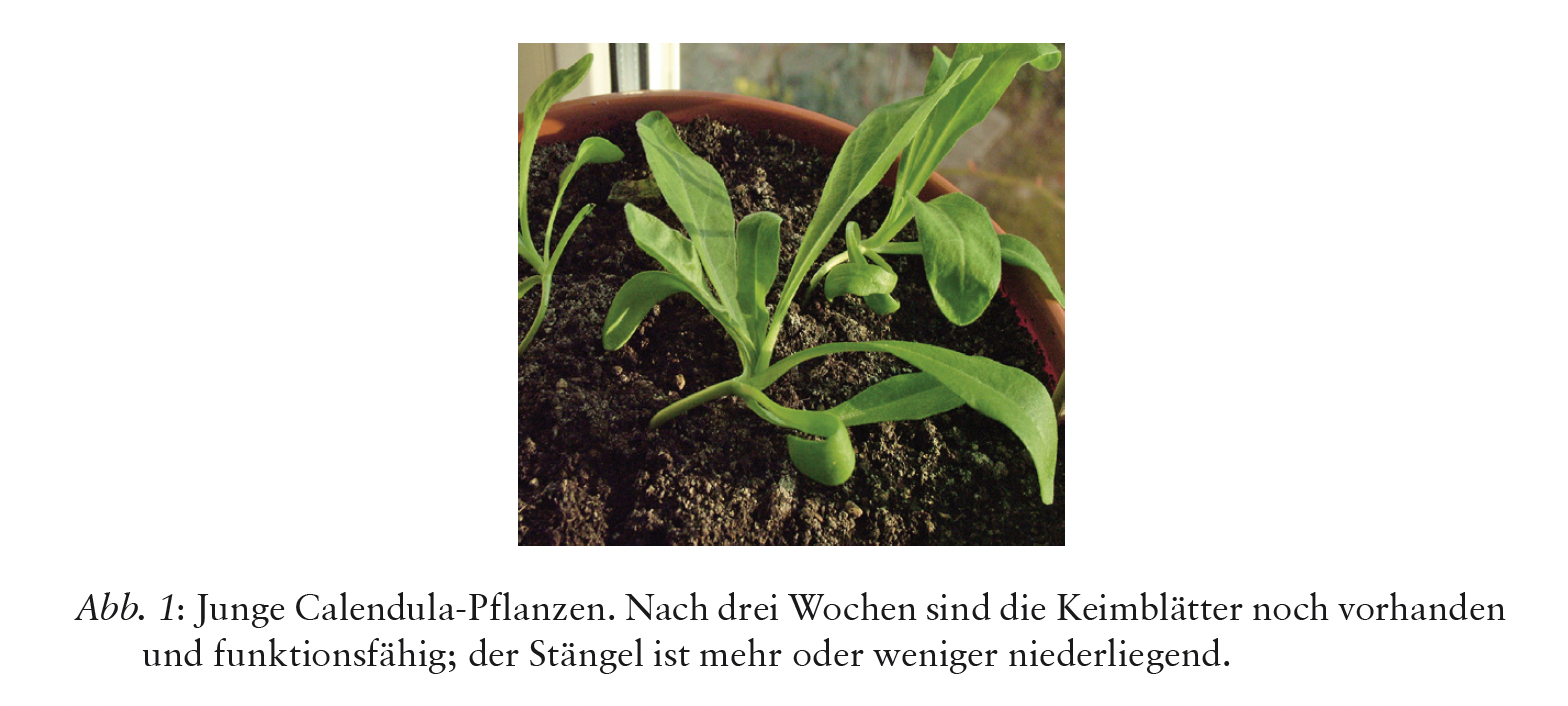 References
Abbasi, A.M., Khan, M.A., Ahmad, M., Zafar, M., Jahan, S., Sultana, S. (2014): Ethnopharmacological application of medicinal plants to cure skin diseases and in folk cosmetics among the tribal communities of North-West Frontier Province, Pakistan. Journal of ethnopharmacology 128, S. 322–335.
Aeschimann, D., Lauber, K., Moser, D.M., Theurillat, J.P. (2004): Flora alpina. Bern.
Abdullabekova, V., Juraeva, A., Azizov, O., Yunusxodjaeva, N. (2014): Essential oil of Calendula officinalis. European Medical Health and Pharmaceutical Journal 7 (2), S. 34–37.
Agatonovic-Kustrin, S., Ortakand, D.B., Morton, D.W., Yusof, A.P. (2015): Rapid evaluation and comparison of natural products and antioxidant activity in calendula, feverfew and german chamomilla extracts. Journal of Chromatography A. 1385, S. 103–110.
Akihisa, T., Yasukawa, K., Oinuma, H., Kasahara, Y., Yamanouchi, S., Takido, M., Kumaki, K., Tamura, T. (1996): Triterpene alcohols from the flowers of compositae and their anti-inflammatory effects. Phytochemistry 43 (6), S. 1255–1260.
Anupam, S., Kshitij, A., Prem, S., Jangra, M. (2014): In vitro antioxidant activity of different extracts of Calendula officinalis leaves. Journal of Drug Delivery & Therapeutics 4 (4), S. 74–76.
Arora, D., Rani, A., Sharma, A. (2013): A review on phytochemistry and ethnopharmacological aspects of genus Calendula. Pharmacogn. Rev. 7 (14), S. 179–187.
Babaee, N., Moslemi, D., Khalilpour, M., Vejdani, F., Moghadamnia, Y., Bijani, A., Baradaran, M., Kazemi, M.T., Khalilpour, A., Pouramir, M., Moghadamnia, A.A. (2013): Antioxidant capacity of Calendula officinalis flowers extract and prevention of radiation induced oropharyngeal mucositis in patients with head and neck cancers: a randomized controlled clinical study. Journal of Pharmaceutical Sciences 21, S. 18.
Bahramsoltani, R., Farzaei, M.H., Rahimi, R. (2014): Medicinal plants and their natural components as future drugs for the treatment of burn wounds: an integrative review. Arch Dermatol Res 306, S. 601–617.
Blamey, M., Grey-Wilson, C. (2000): Toutes les fleurs de Méditerranée. Lausanne.
Bonnier, G., Douin, R. (1934) : Flore complète de Belgique, Suisse et Belgique. Librairie Générale de l'Enseignement. Paris.
Bruneton, J. (2009): Pharmacognosie, Phytochimie, Plantes médicinales. Lavoisier.
Budovsky, A., Yarmolinsky, L., Ben-Shabat, S. (2015): Effect of medicinal plants on wound healing. Wound Rep. Reg. 23, S. 171–183.
Busser, C., Busser, E. (2005): Les plantes des Vosges. Médecine et traditions populaires. Strasbourg.
Butnariu, M., Coradini, C.Z. (2012): Evaluation of biologically active compounds from Calendula officinalis flowers using spectrophotometry. Chemistry Central Journal 6 (35), S. 1–7.
Cas, L.D., Pugni, F., Fico, G. (2015): Tradition of use on medicinal species in Valfurva (Sondrio, Italy). Journal of Ethnopharmacology 163, S. 113–134.
Chandra, P., Kishore, K., Ghosh, A.K. (2015): Evaluation of antiacid capacity and antiulcer activity of Calendula officinalis L. in experimental rats. Orient. Pharm. Ex. Med. 15, S. 277–285.
Colombo, E., Sangiovanni, E., D'Ambrosio, M., Bosisio, E., Ciocarlan, A., Fumagalli, M., Guerriero, A., Harghel, P., Dell'Agli, M. (2015): Abio-guided fractionation to assess the inhibitory activity of Calendula officinalis L. on the NF-κB driven transcription in human gastric epithelial cells. Evidence-based Complementary and alternative medicine, article ID 727342.
D'Ambrosio, M., Ciocarlan, A., Colombo, E., Guerriero, A., Pizza, C., Sangiovani, E., Dell'Agli, M. (2015): Structure and cytotoxic activity of sesquiterpene glycosides esters from Calendula officinalis L.: studies on the conformation of viridiflorol. Phytochemistry 117, S. 1–9.
Dall'Acqua, S., Catanzaro, D., Cocetta, V., Igl, N., Ragazzi, E., Giron, M.C., Cecconello, L., Montopoli, M. (2016): Protective effects of ψ-taraxasterol 3-O-myristate and arnidiol 3-O-myristate isolated from Calendula officinalis on epithelial intestinal barrier. Fitoterapia 109, S. 230–235.
Diederich, K., Riggers, U. (2006): Die Calendula. Der Merkurstab 1, S. 47–55.
Dulf, F.V., Pamfil, D., Baciu, A.D., Pintea, A. (2013): Fatty acid composition of lipids in pot marigold (Calendula officinalis L.) seed genotypes. Chemistry Central Journal 7 (8), S. 1–11.
Efstratiou, E., Hussain, A.I., Nigam, P.S., Moore, J.E. (2012): Antimicrobial activity of Calendula officinalis petal extracts again fungi, as well as gram-negative and gram-positive clinical pathogens. Complementary Therapies in Clinical Practice 18, S. 173–176.
Fonseca, Y.M., Catini, C.D., Vicentini, F.T.M.C., Nomizo, A., Gerlach, R.F., Viera Fonseca, M.J. (2010): Protective effect of Calendula officinalis extract against UVB-induced oxidative stress in skin: Evaluation of reduced glutathione levels and matrix metalloproteinases secretion. Journal of Ethnopharmacology 127, S. 596–601.
Fournier, P. (1997): Les quatre flores de France. Paris.
Ghanati, F., Bakhtiarian, S. (2014): Effect of methyl jasmonate and silver nanoparticles on production of secondary metabolites by Calendula officinalis L. (Asteraceae). Tropical Journal of Pharmaceutical research 13 (11), S. 1783–1789.
Ghédira, K., Goetz, P. (2016): Calendula officinalis L. (Asteraceae): souci. Phytothérapie 14, S. 62–67.
Godara, R., Katoch, R., Yadav, A., Ahanger, R.R., Bhutyal, A.D.S., Verma, P.K., Katoch, M., Dutta, S., Nisa, F., Singh, N.K. (2015): In vitro acaricidal activity of ethanolic and aqueous floral extracts of Calendula officinalis against synthetic pyrethroid resistant Rhipicephalus (Boophilus) microplus. Exp. Appl. Acorol. 67, S. 147–157.
Göbel, T. (1988): Die Pflanzenidee als Organon. Jahrbuch für Goetheanismus. Niefern-Öschelbronn.
HAB Homöopathisches Arzneibuch (2019)
Hernandez-Saavedra, D., Pérez-Ramirez, I., Ramos-Gomez, M., Mendoza- Diaz, S., Loarca-Pina, G., Reynoso-Camacho, R. (2016): Phytochemical characterization and effect of Calendula officinalis, Hypericum perforatum and Salvia officinalis infusions on obesity-associated cardiovascular risk. Med. Chem. Res. 25, S. 163–172.
Hofbauer, R., Pasching, E., Moser, D., Frass, M. (2010): Heparinbinding epidermal growth factor expression in KATO-III cells after Helicobacter pylori stimulation under the influence of Strychnos nux vomica and Calendula officinalis. Homeopathy 99, S. 177–182.
Honório, I.C.G., Bonfim, F.P.G., Montoya, S.G., Casali, V.W.D., Leite, J.P.V., Cecon, P.R. (2016): Growth, development and content of flavonoids in calendula (Calendula officinalis L.). Acta Scientiarum Agronomy Maringa 38 (1), S. 69–75.
Hostanska, K., Rostock, M., Melzer, J., Baumgartner, S., Saller, R. (2012): A homeopathic remedy from arnica, marigold, St. John's wort and comfrey accelerates in vitro wound scratch closure of NIH 3T3 fibroblasts. BMC Complementary and Alternative Medicine 22 (100), S. 1–9.
Ibrahim, N.A., Elwakkad, A.S., Khedre, M.E., Mourad, H.H., Sibaii, H. (2014): Amelioration of trichloroethylene – induced hepatic inflammatory response and oxidatve stress by Calendula officinalis in rats. International Journal of Academic Research Part A, 6 (5), S. 36–40.
Idolo, M., Motti, R., Mazzoleni, S. (2010): Ethnobotanical and phytomedicinal knowledge in a long-history protected area, the Abruzzo, Lazio and Molise National Park (Italian Apennines). Journal of Ethnopharmacology 127, S. 379–395.
IAAP-International Association of Anthroposophic Pharmacists (2020): Anthroposophic Pharmaceutical Codex. Stuttgart.
Jaric, S., Macukanovic-Jocic, M., Djurdjevic, L., Mitrovic, M., Kostic, O., Karadzic, B., Pavlovic, P. (2015): An ethnobotanical survey of traditionally used plants on Suva Planina Mountain (south-eastern Serbia). Journal of Ethnopharmacology 175, S. 93–108.
Jiménez-Medina, E., Garcia-Lora, A., Paco, L., Algarra, I., Collado, A., Garrido, F. (2006): A new extract of the plant Calendula officinalis produces a dual in vitro effect: cytotoxic anti-tumor activity and lymphocyte activation. BMC Cancer 6 (119), S. 1–14.
Kalvatchev, Z., Walder, R., Garzaro, D. (1997): Anti-HIV activity of extracts from Calendula officinalis flowers. Biomed. & Pharmacother. 51, S. 176–180.
Kennedy, J.F., Stevenson, D.L., White, C.A., Lombard, A., Buffa, M. (1988): Analysis of the oligosaccharides from the roots of Arnica montana L., Artemisia absinthium L., and Artemisia dracuncula L. Carbohydrate Polymers 9 (4), S. 277–285.
Khare, C.P. (2004): Indian Herbal Remedies. Rational Western Therapy, Ayurvedic and other Traditional Usage, Botany. Berlin.
Kishimoto, S., Maoka, T., Sumitomo, K., Ohmiya, A. (2005): Analysis of carotenoid composition in petals of calendula (Calendula officinalis L.). Biosc. Biotechnol. Biochem 69 (11), S. 2122–2128.
La Pharmacopée française (2021): Agence Nationale de Sécurité du Médicament.
Lieutaghi, P. (1966): Le livre des bonnes herbes. Forcalquier.
Mahyari, S., Mahyari, B., Emami, S.A., Malaekeh-Nikouei, B., Jahanbakhsh, S.P., Mohammadpour, A.H., Sahebkar, A. (2015): Evaluation of the efficacy of a polyherbal mouthwash containing Zingiber officinale, Rosmarinus officinalis and Calendula officinalis extracts in patients with gingivitis: a randomized double-blind placebo-controlled trial. Complementary Therapies in Clinical Practice, DOI: 10.1016/j. ctcp.2015.12.001.
Mishra, A.K., Mishra, A., Chattopadhyay, P. (2012): Assessment of in vitro sun protection factor of Calendula officinalis L. (Asteraceae) essential oil formulation. Journal of Young Pharmacists 4 (1), S. 17–21.
Muley, B.P., Khadabadi, S.S., Banarase, N.B. (2009): Phytochemical constituents and pharmacological activities of Calendula officinalis L. (Asteraceae): a review. Tropical Journal of Pharmaceutical Research 8 (5), S. 455–465.
Narisawa, T., Fukaura, Y., Hasebe, M., Ito, M., Aizawa, R., Murakoshi, M., Uemura, S., Khachik, F., Nishino, H. (1996): Inhibitory effects of natural carotenoids, alpha-carotene, beta-carotene, lycopene and lutein on colonic aberrant crypt foci formation in rats. Cancer Letters 107, S. 137–142.
Neukirch, H., D'Ambrosio, M., Dalla Via, J., Guerriero, A. (2004): Simultaneous quantitative determination of eight triterpenoid monoesters from flowers of 10 varieties of Calendula officinalis L. and characterization of a new triterpenoid monoester. Phytochemical Analysis 15, S. 30–35.
Neukirch, H., D'Ambrosio, M., Sosa, S., Altinier, G., Della Loggia, R., Guerriero, A. (2005): Improved anti-inflammatory activity of three new terpinoids derived by systematic chemical modifications from abundant triterpenes of the flowery plant Calendula officinalis. Chemistry and Biodiversity 2, S. 657–671.
Nicolaus, C., Junghanns, S., Hartmann, A., Murillo, R., Ganzera, M., Merfort, I. (2017): In vitro studies to evaluate the wound healing properties of Calendula officinalis extracts. Journal of Ethnopharmacology 196, S. 94–103.
Nikmehr, B., Ghaznavi, H., Rahbar, A., Sadr, S., Mehrzadi, S. (2014): In vitro anti-leishmanial activity of methanolic extracts of Calendula officinalis flowers, Datura stramonium seeds and Salvia officinalis leaves. Chinese Journal of Natural Medecines 12 (6), S. 423–427.
Nizynski, B., Alsoufi, A.S.M., Paczkowski, C., Dlugosz, M., Szakiel, A. (2015): The content of free and esterified triterpenoids of the native marigold (Calendula officinalis) plant and its modifications in in vitro cultures. Phytochemistry Letters 11, S. 410–417.
Pazyar, N., Yaghoobi, R., Rafiee, E., Mehrabian, A., Feily, A. (2014): Skin wound healing and phytomedecine: a review. Skin Pharmacol. Physiol. 4 (27), S. 303–310.
Pommier, P., Gomez, F., Sunyach, M.P., D'Hombres, A., Carrie, C., Montbardon, X. (2004): Phase III randomized trial of Calendula officinalis compared with trolamine for the prevention of acute dermatitis during irradiation for breast cancer. Journal of Clinical Oncology 22 (8), S. 1447–1453.
Preethi, K.C., Kuttan, G., Kuttan, R. (2006): Antioxidant potential of an extract of Calendula officinalis flowers in vitro and in vivo. Pharmaceutical Biology 44 (9), S. 691–697.
Preethi, K.C., Kuttan, G., Kuttan, R. (2008): Anti-inflammatory activity of flower extract of Calendula officinalis L. and its possible mechanism of action. Indian Journal of Experimental Biology 47, S. 113–120.
Preethi, K.C., Siveen, K.S., Kuttan, R., Kuttan, G. (2010): Inhibition of metastasis of B16F-10 melanoma cells in C57BL/6 mice by an extract of Calendula officinalis L. flowers. Asian Pacific Journal of Cancer Prevention 11, S. 1773–1779.
Richter, R. (2016): Die Calendula – Eine traditionell verwendete Arzneipflanze in der anthroposophischen Medizin. In: Meyer, U., Pedersen, P.A.: Anthroposophische Pharmazie: Grundlagen, Herstellprozesse, Arzneimittel. Berlin.
Rispens, J.A. (1992): Substanzbildung in Hanf, Brennessel und Hopfen in Bezug auf deren Zweihäusigkeit. Elemente d. N. 56, S. 48–70.
Ross, J. (2010): Matière Médicale à usage clinique. Editions PHU-XUAN, Paris.
Segur-Fantino, N. (2016): Etymologie provençale de calendula. Communication personnelle.
Simonis, W.C. (1955): Die unbekannte Heilpflanze. Frankfurt am Main.
Suchantke, A. (2002): Metamorphose, Kunstgriff der Evolution. Stuttgart.
Tison, J.M., de Foucault, B. (coords) (2014): Flora Gallica, Flore de France. Mèze.
Vidal-Ollivier, E. (1988): Contribution à l'étude des saponosides de Calendula officinalis L. et de Calendula arvensis L.; et des hétérosides flavoniques de Calendula officinalis L. Thèse de doctorat en Sciences. Marseille.
Weberling, F. (1981): Morphologie der Blüten und der Blütenstände. Stuttgart.
Yoshikawa, M., Murakami, T., Kishi, A., Kageura, T., Matsuda, H. (2001): Medicinal flowers. III. Marigold. (1): hypoglycemic, gastric emptying inhibitory, and gastroprotective and new oleanane-type triterpene oligoglycosides, calendasaponins A, B, C and D, from egyptian Calendula officinalis. Chem. Pharm. Bull. 49 (7), S. 863–870.
Zerling, C. (2007): Lexikon der Pflanzensymbolik.
Zitterl-Eglseer, K., Sosa, S., Jurenitsch, J., Schnert-Zsilavecz, M., Della Loggia, R., Tubaro, A., Bertoldi, M., Franz, C. (1997): Anti-oedematous activities of the main triterpendiol esters of marigold (Calendula oficinalis L.) Journal of ethnopharmacology 57, S. 139–144.
Zitterl-Eglseer, K., Reznicek, G., Jurenitsch, J., Novak, J., Zitterl, W., Franz, C. (2001): Morphogenetic variability of faradiol-monoesters in marigold Calendula officinalis L. Phytochemical analysis 12, S. 199–201.